At the Microsoft Business Application Summit in early May the PowerBI Development Team presented their second wave of releases in 2020. There were many exciting features that we will be enjoying over the next 6 months, such as lasso selection of data points or external tools integrated into the Desktop experience. But no feature was as exciting to me as the announcement of composite models over PowerBI Datasets in PowerBI. In its drive to close the gap from insight to action, PowerBI is coming closer now than ever to help us build our Enterprise Semantic Models.
In the last couple of years, we have started to see the power of the dataset in the PowerBI Service: a sharable, reusable source of data, getting us one step closer to the source-of-truth. But it always came with some drawbacks, the biggest of them being the restriction of one dataset per new report file. This meant, that if you were going to use the Finance Dataset to get the newest Accounts Receivable Data and wanted to combine it with the Sales Dataset, you were not able to do this in one swoop. Rather, with this limitation, the developer needed to build a new "combined" dataset and push it through the lifecycle. This would result in increased development time and in less agility in analytics.
In comes the announcement of the composite model.
Most organizations provide centralized, certified datasets for their users to build reports. These are either Azure Analysis Services models or Power BI certified and shared datasets. DirectQuery over Azure Analysis Services models allows authors to connect to these datasets and use composite models to either extend them with their own measures or combine them with other imported data (for example, Excel files). In this way, organizations can scale their enterprise datasets by allowing users to leverage them in more self-service scenarios. Developers can bring in their own local data sources while still leveraging the authoritative Power BI or Azure Analysis Services datasets created by others in their organization.
Composite Models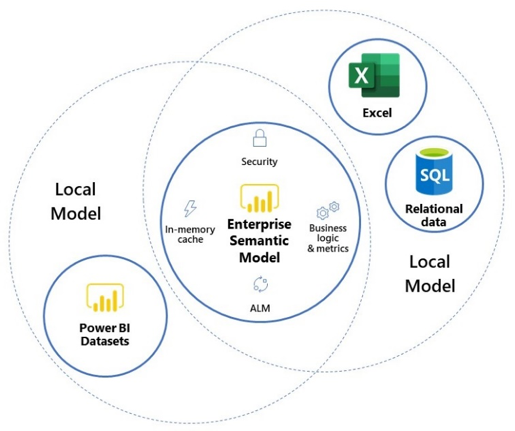 Slowly but steadily, PowerBI Dataset will start replacing legacy on-premises Analysis Services, especially with the opening of the XML endpoints of said Datasets. You will soon be able to edit your Datasets (as if it's a regular MDX or Tabular Model) with third-party applications as well as read it with BI tools like Tableau, Qlik, or whatever your heart desires. (Note: this is a Premium Capacity Feature). This solidifies the future of PowerBI to be the end-to-end business intelligence platform it seeks out to be. No matter who or what consumes the data.
This can be used with the existing composite models feature to build any combination of one or more connections to Azure Analysis Services models and DirectQuery tables from other data sources, or even imported data can be used for flexible modeling over enterprise and self-service data.
What are your thoughts on the composite models over PowerBI Datasets? I would love to hear them, send me an email at srichters@newcomp.com and let's talk!
Written By:
Sebastian is an Analytics Consultant at Newcomp Analytics and our lead PowerBI developer and trainer. He is a trusted analytics advisor for some of the largest companies in Canada, where he spends his time developing analytics roadmaps, solution architectures and leading proof of concepts.
Read more posts from our blog
No matter where you are in your analytics journey, we'll guide you the rest of the way.